VOLUNTARY WATER RESTRICTIONS AT WINTERGREEN HAVE BEEN LIFTED BY WINTERGREEN EFFECTIVE OCTOBER 28, 2019.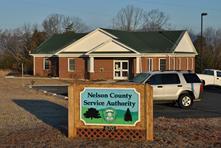 Our Administrative Building is located at: 620 Cooperative Way, Arrington, VA 22922
Home
The Nelson County Service Authority is a public body that was organized and created under the Virginia Water and Waste Authorities Act of the Code of Virginia of 1950 as amended. The Nelson County Board of Supervisors created the Authority in 1986. The Authority is governed by five citizen members appointed by the Nelson County Board of Supervisors to four-year staggered terms. The Authority has no taxing power. The revenues of the Authority are derived from services provided to our customer base.
The purpose of the Authority is to "acquire, construct, improve, extend, operate and maintain a water and sewage systems in Nelson County." The Authority provides public water and sewer services to the following unincorporated communities in Nelson County; Wintergreen Mountain Village, Lovingston, Shipman, Colleen, Schuyler, Gladstone and the Piney River system, which is owned by the County of Nelson, but operated and maintained by NCSA.
Website powered by Network Solutions®